German influence on U.S. cuisine
The traditional cuisine of German immigrants has prevailed in regions with high ethnic German populations. Many original German dishes are a natural part of American cuisine. Americans' image of typical German food is influenced by stereotypical folkloric dress such as lederhosen, festivals like Oktoberfest as well as bratwurst and beer.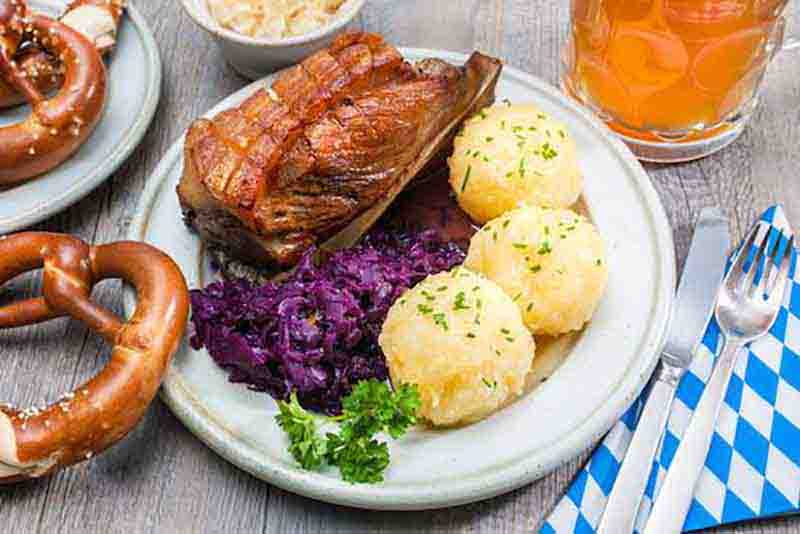 "Schweinshaxn" a Bavarian specialty
Specialities of German origin that have become part of American food culture include bratwurst, sauerkraut, frankfurters and Vienna sausages (hot dogs), hamburger, pretzels, lager beer, potato salad, cheesecake, cream cheese, meatballs, Berlin pancakes and various cookies. The use of baking pans was introduced in the U.S. by the Pennsylvania Dutch. Germans are also said to have brought beefsteak tartare to the US.
Spelt, an ancient grain
The cuisine of the early German immigrants was simple home cooking. Dark whole wheat bread was a staple. Spelt played an important role as a grain, used not only for baking but also for making dumplings, soup, and cereal porridge. Breakfast at that time usually consisted of tea with brown sugar, accompanied by bread with butter and radishes.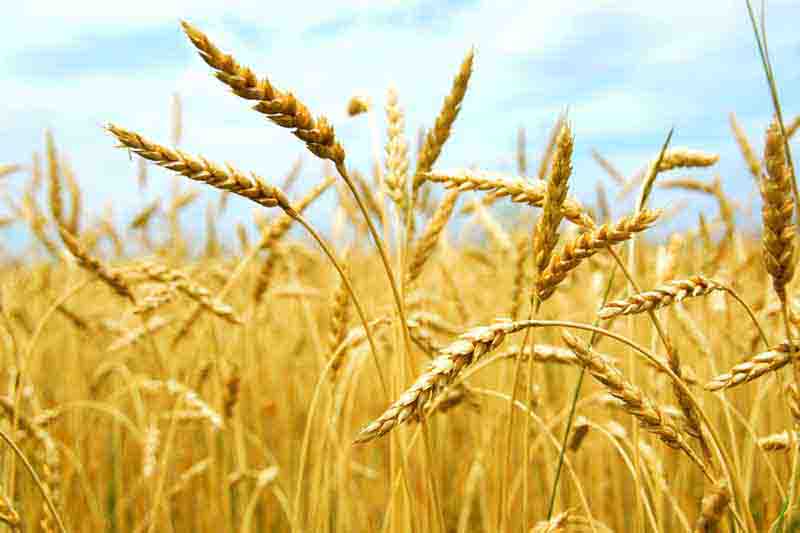 Spelt Plant ready for Harvest
If there was some cereal porridge left over from dinner, it was boiled up in the morning with some buttermilk and sweetened with syrup. At noon there was some meat with a side dish, as a snack leftover from lunch or buttered bread and cheese.
Sauerkraut Yankees
The preferred meat was pork. The Pennsylvania Dutch were proverbially known for utilizing all parts of a slaughtered pig, leading Americans to say "the only thing they didn't use was the squeal." Also typical of their cuisine is cabbage, especially sauerkraut, which earned them the nickname Sauerkraut Yankees.
According to an old custom, pork is eaten with sauerkraut at New Year's, which is said to bring good luck. The side dish is either mashed potatoes or steamed potatoes and gravy.
---
At the end of the 19th century, the custom arose of serving "seven sweets and sours" as side dishes to the main meal, i.e. sweets and sours, although the number is not to be taken literally. These include pickled green and red tomatoes, pickles, pickled vegetables, honey, apple syrup (apple butter) and rhubarb jam.
Traditional German American food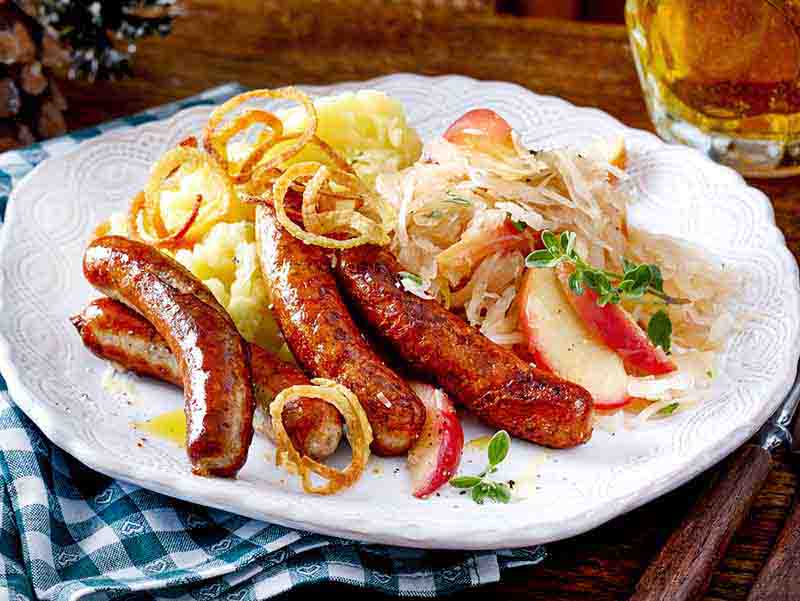 The name bratwurst is a composite word from the Old High German words brāto 'sheer meat', and wurst. The word is a reference to roast and actually means meat sausage.
---
In the Midwest, families of German descent have preserved a distinct brand of cuisine that is heavily influenced by Palatine, Baden, Swabian and Bavarian cuisine. The best-known traditional German dishes are panhas, schales, schnitz and knepp, as well as Saumagen, which in the U.S. has been dubbed Seimawe.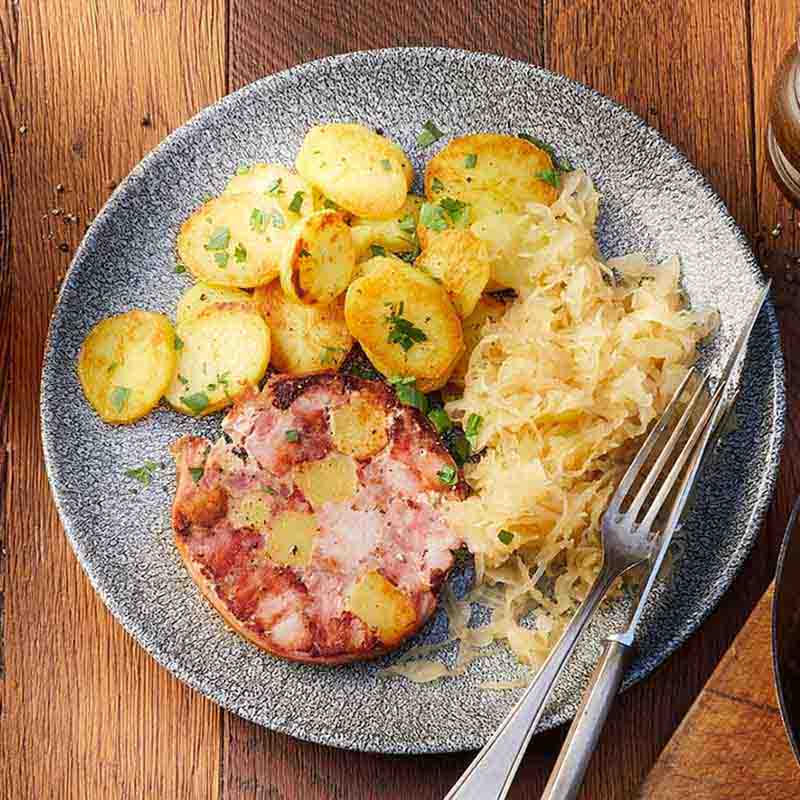 Traditional Pennsylvania Dutch G'fillte Seimawe
Another typical Pennsylvania Dutch dish is pot pie (botboi), which comes in many variations and is a kind of casserole. A whole series of German recipes for cakes and cookies, especially for Christmas cookies, have been adopted by the Americans.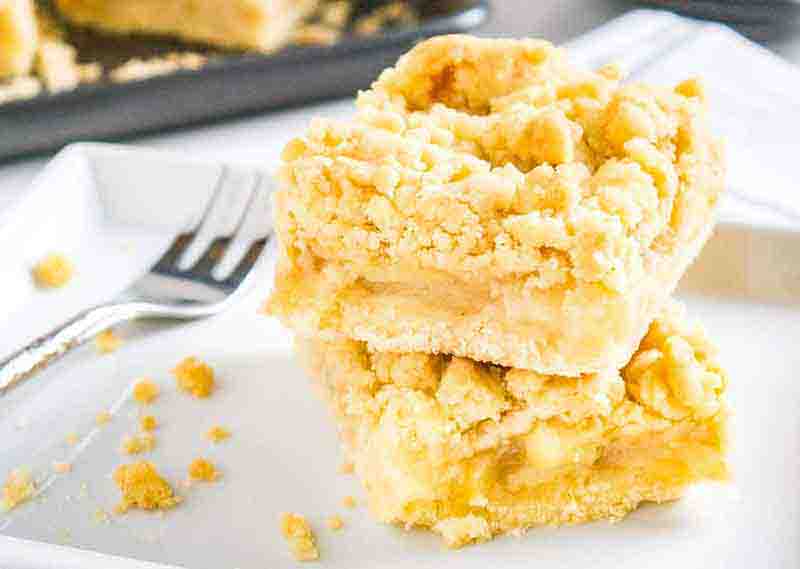 German Apple Streusel Sheet Cake
The shoofly pie, a variation on the German Streuselkuchen, was invented by the Pennsylvania Dutch in the 19th century but is now eaten throughout North America. The same is true of whoopie pies. The Pennsylvania Dutch are also credited with the invention of sticky buns, a sweet and sticky pastry said to trace its origins to German dough snails.
Iconic German-American Delicatessen
Delicatessen stores are called delicatessen in the U.S., derived from the German word Delikatesse because the first stores of this type were opened by German immigrants in the mid-19th century. The first delicatessen is said to have existed around 1868 on Grand Street in New York City.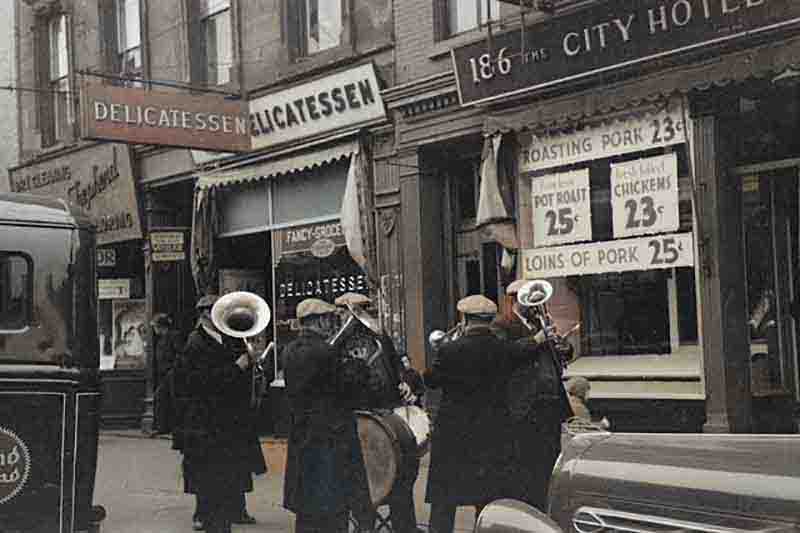 On 86th Street in Yorkville, once known as "German Broadway" or "Sauerkraut Boulevard," performers used to play. During this period, it was quite common to hear people speaking German on the streets, the area even had its own German newspaper.
---
At first, they sold German foods and specialities that were not available in American stores, such as various hams, sausages, wild fowl, sauerkraut, sour vegetables, offal, and heads and feet of pigs, calves, and sheep, as well as prepared salads such as chicken salad, herring salad, and potato salad. These stores spread very quickly and by 1910 were everywhere in the country.
Delicatessens owned by German-born families became rare after World War 1; one of the best known was Reuben's Restaurant and Delicatessen in New York City, which existed until the mid-1960s.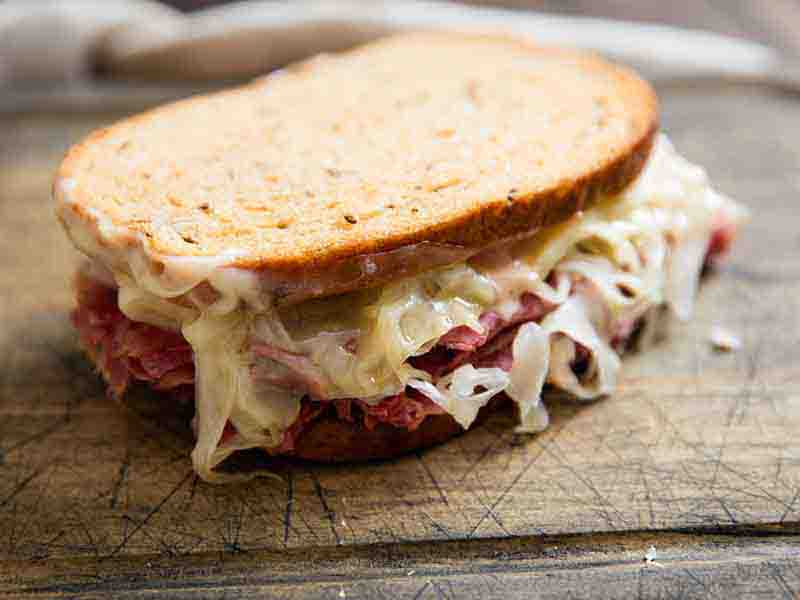 Arnold Reuben, is considered the inventor of the Reuben sandwich with corned beef and sauerkraut.
---
Historical German American cookbooks
In the 1840s, the first German-language cookbooks appeared in Pennsylvania and Ohio. The recipe collections by Friedrike Luise Löffler and Henriette Davidis had the greatest influence during the 19th century.
---
In 1879, Davidis's "Praktisches Kochbuch für Deutsche in Amerika" was published with essentially the same content as the "Praktisches Kochbuch in Deutschland". 18 years later, its second edition was adapted to the conditions in the U.S.
---
---
---
The Settlement Cook Book : The Way to a Man's Heart by Lizzy Black Kander, was first published in Milwaukee in 1901 and was so successful that it saw over 30 reprints.
The first edition was printed in a run of 1000 copies and sold out rapidly. In the decades that followed, the book sold more than 1.5 million copies worldwide and remained a bestseller among cookbooks until the 1970s.
---
The Settlement was a Jewish reform organisation in the state of Wisconsin; the cookbook was published to raise funds for integration work. The concern of this movement was to integrate and assimilate Jewish immigrants as quickly as possible.
The cookbook's original target audience was Jewish housewives and young girls, but most of the recipes were not kosher and did not conform to Jewish dietary rules.
The book contained adapted Jewish as well as French and English-American recipes, but mostly German dishes. It was purchased by women of various ethnic groups throughout North America.
American books followed with German recipes for German-Americans whose native language was already English. "The Art of German Cooking and baking" (1909) by Lina Meier, was a great success and was reprinted several times. German-born Irma Rombauer included numerous German recipes in her cookbook "The Joy of Cooking" (1931).