Bretagne: Your ultimate travel companion
Bretagne, also known as Brittany, is a region of rich history, stunning landscapes, and vibrant culture in the northwestern corner of France. Whether you're planning a visit to its charming coastal towns, exploring its ancient castles, or savoring its delectable cuisine, Bretagne has something to offer every traveler.
Exploring Brittany, France
Brittany, located in the northwestern corner of France, is a region that welcomes Vacationers with its diverse landscapes, rich history, and vibrant culture.
---
The enticing attractions of Brittany, France
Brittany, or Bretagne as it's known in French, with its rugged coastline, rich history and vibrant culture and Celtic Roots, invites travelers to experience its many wonders.
This hub page serves as your gateway to a treasure trove of Bretagne topics, each offering unique insights and information to help you plan an unforgettable visit to this enchanting region.
From accommodations and transportation to day trips, cuisine, outdoor adventures, and hidden gems, our Bretagne travel guide covers it all.
Explore the chapters below to dive deeper into the heart of Bretagne and embark on a journey that promises beauty, adventure, and discovery at every turn.
Whether you are fascinated by Brittany's history, captivated by its landscapes, or want to enjoy its culinary delights, Brittany promises an memorable and rich travel experience.
Brittany: Celtic Origins and Medieval Heritage
Brittany's history is deeply rooted in its Celtic origins, dating back over 2,000 years. The region was originally inhabited by Celtic tribes and later became known as Armorica.
In the 5th century, it was renamed Brittany when Celtic settlers from Great Britain migrated across the English Channel.
This rich Celtic heritage is still evident today in the region's music, language, and festivals.
Breton Music and Dance
One of the most captivating aspects of Brittany's culture is its traditional music and dance.
Breton music is characterized by its lively tunes played on instruments like the accordion and bagpipes.
Traditional Breton dance, including the famous "An Dro" and "Gavotte," often accompanies this music during local festivals.
Language and Festivals
While French is the official language of Brittany, the Breton language, closely related to Welsh and Cornish, is still spoken in some communities.
Brittany hosts numerous festivals throughout the year, celebrating its culture and traditions.
The Festival Interceltique de Lorient is a highlight, featuring Celtic music, dance, and a colorful parade.
Top Attractions in Brittany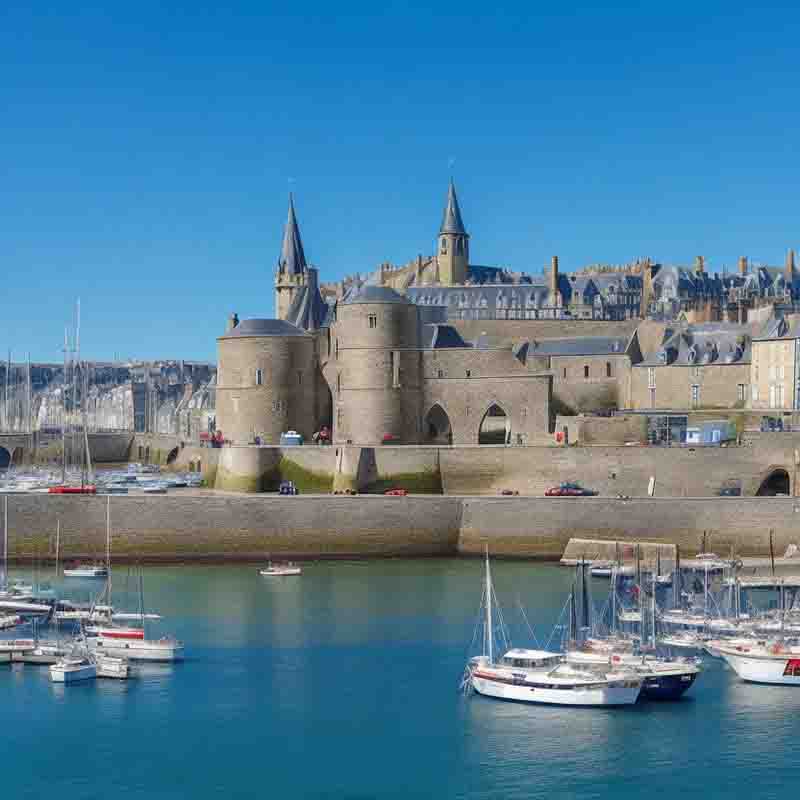 Port of saint malo in Brittany France
Saint-Malo, a historic port city enclosed by ancient walls, beckons with its maritime heritage and stunning beaches.
---
From its Celtic roots and medieval heritage to its enchanting music and dance, Brittany offers a unique travel experience.
When it comes to captivating landscapes, rich history, and vibrant culture, Brittany, France, has it all.
Mont Saint-Michel: No visit to Brittany is complete without seeing the iconic Mont Saint-Michel. This UNESCO World Heritage site is a picturesque island commune topped with an awe-inspiring medieval abbey. Explore the winding streets, take in breathtaking views, and learn about its history in the visitor center.

Saint-Malo: Saint-Malo, known as the "Corsair City," is a fortified port city with a rich maritime history. Walk along the city walls for panoramic views of the harbor, visit the Saint-Malo Cathedral, and explore the cobblestone streets filled with charming shops and restaurants.

Carnac Stones: For history enthusiasts, the Carnac Stones are a must-see. This vast collection of megalithic stones dates back to prehistoric times and is shrouded in mystery. Take a guided tour to learn about the possible purposes and significance of these ancient monoliths.

Quimper: Quimper, Brittany's cultural capital, is famous for its exquisite faience pottery. Explore the charming old town with its half-timbered houses, visit the Musée de la Faïence, and enjoy a meal at a traditional Breton creperie.

Breton Coastline: Brittany boasts a stunning coastline with rugged cliffs, picturesque fishing villages, and sandy beaches. The Pink Granite Coast, named for its unique pink-hued rocks, and the dramatic Pointe du Raz, often called the "End of the World," a dramatic headland where the land meets the Atlantic Ocean, are among the coastal gems waiting to be explored.
Brittany's sight-seeing destinations offer a wealth of natural beauty, heritage, and culture.
Brittany hides a trove of hidden gems waiting to be explored. In this guide, we invite you to venture beyond the beaten path and uncover the region's well-kept secrets.
Coastal Charms and Hidden Beaches in Brittany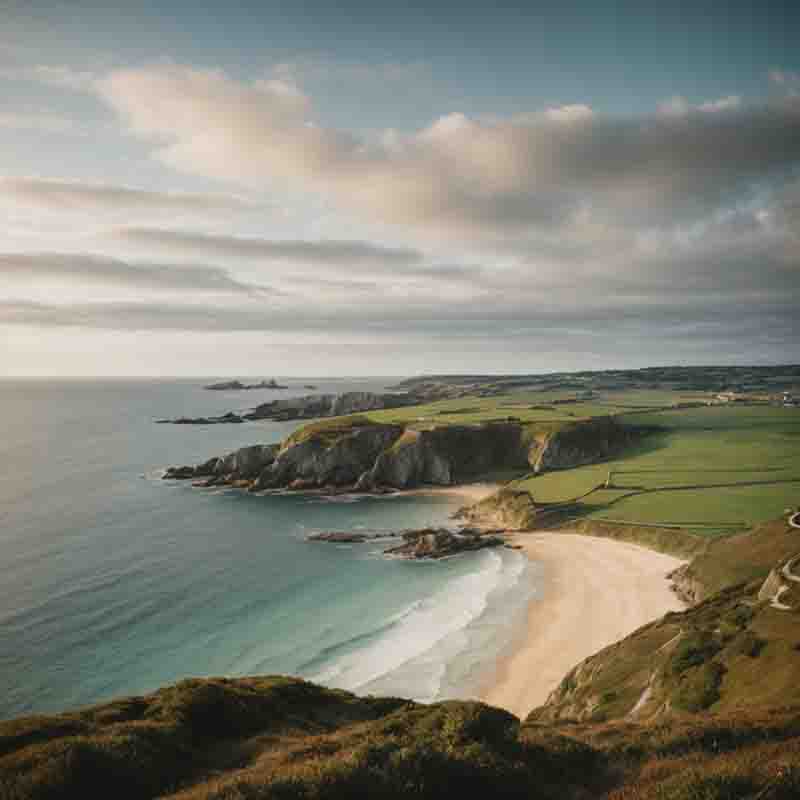 Cliffside Beach in Brittany France
Whether you're seeking outdoor adventures, indulging in culinary delights, or simply unwinding on the stunning coastline, Brittany offers a diverse and unforgettable experience.
---
Tucked away in the Côtes-d'Armor department, Île de Bréhat is a paradise for nature lovers and garden enthusiasts.
Known as the "Island of Flowers," this tranquil haven boasts a microclimate that allows exotic plants to flourish.
Stroll along winding paths, discover charming cottages, and marvel at the vibrant blooms that cover the island.
Belle-Île-en-Mer, the largest of Brittany's islands, offers a picturesque escape just off the coast of Quiberon.
Its rugged cliffs, hidden coves, and crystal-clear waters have attracted artists and writers for centuries.
Explore the island's dramatic landscapes, visit the Citadel, and hike the coastal trails for breathtaking views.
Charming Medieval Villages in Brittany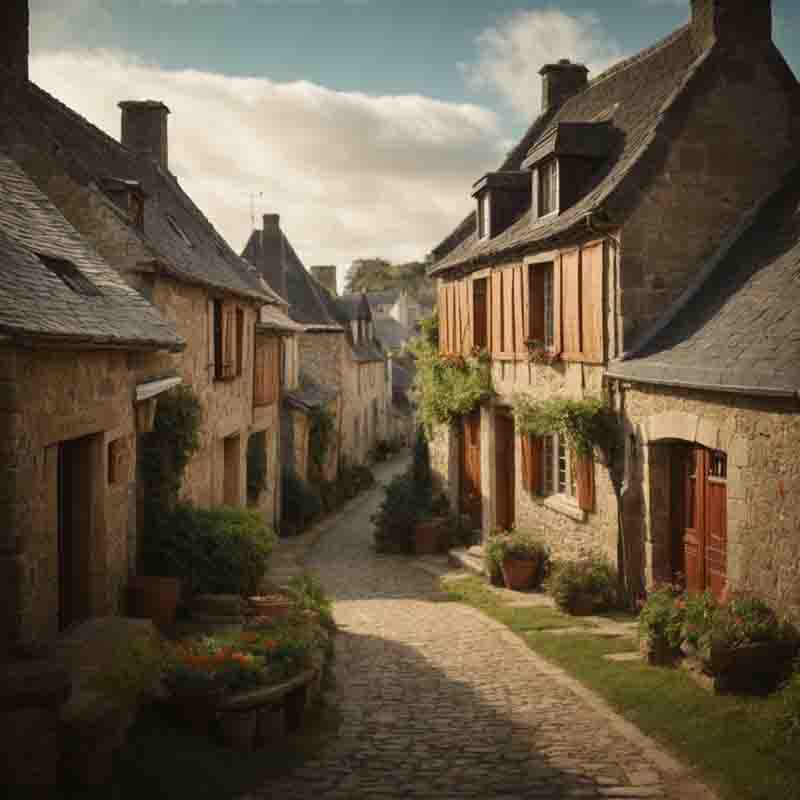 Cobblestone street in a Medieval Village in Brittany
The best time to visit Brittany depends on your preferences. Summer offers warm weather and festivals, while spring and autumn provide milder temperatures and fewer crowds.
---
Rochefort-en-Terre, often dubbed one of the "Most Beautiful Villages in France," is a fairytale come to life.
Its cobblestone streets wind through a medieval town center adorned with half-timbered houses and flower-filled squares.
Explore local artisan shops, savor Breton crepes, and visit the stunning Château de Rochefort-en-Terre.
Located in the heart of Brittany, the village of Locronan transports visitors to another era.
Its well-preserved medieval architecture and cobblestone streets exude an old-world charm.
Explore the town square, browse antique stores, and take in the peaceful atmosphere of this historical gem.
Enigmatic Megaliths and Mysteries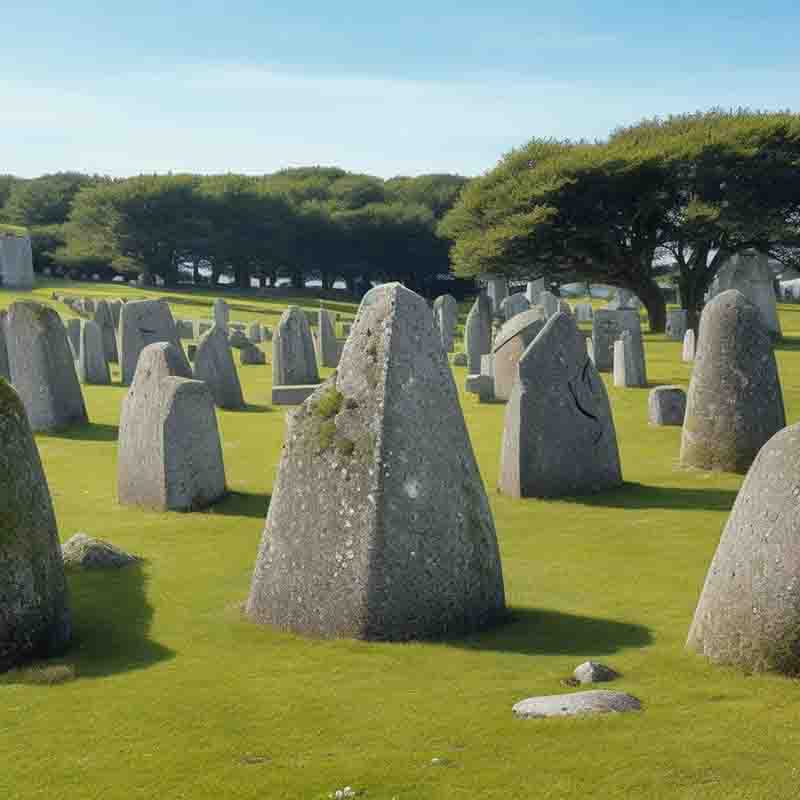 Carnac Stones in Brittany France
Renowned for its Celtic roots and stunning coastline, Brittany offers travelers a unique and unforgettable experience.
---
While the Carnac Stones may be the most famous megalithic site in Brittany, the lesser-known Ménec Alignments offer a quieter and equally mesmerizing experience.
These ancient standing stones stretch across the landscape, creating an enigmatic tableau that sparks the imagination.
For a truly mystical experience, visit the Gavrinis Cairn on a small island in the Gulf of Morbihan.
This Neolithic monument boasts intricate carvings and chambered tombs that have puzzled archaeologists for centuries.
Accessible only by boat, this hidden treasure is a journey back in time.
Hidden Culinary Delights in Brittany
While crepes and seafood are the stars of Breton cuisine, don't miss the chance to savor Kig Ha Farz.
This hearty dish consists of a savory pudding made from buckwheat and served with a succulent meat stew.
It's a comforting and traditional Breton meal that can be found in local eateries.
Embark on a journey along the Cider Route, a lesser-known culinary trail through Brittany's apple orchards and cider houses.
Sample a variety of ciders, from sweet to sparkling, and learn about the cider-making process.
Untouched Natural Beauty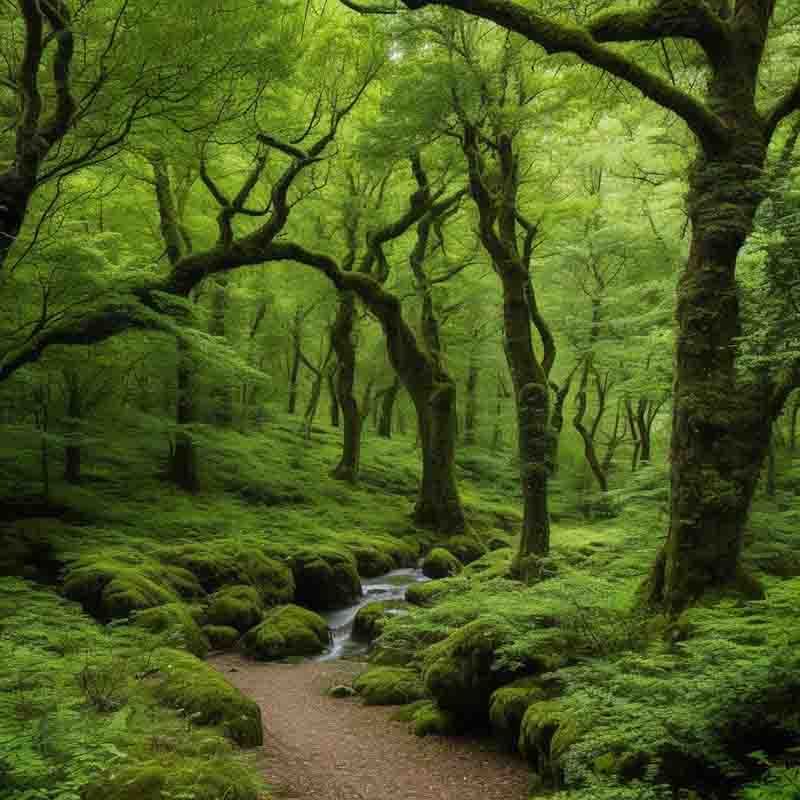 Huelgoat Forest Brittany France
The best time to visit Brittany depends on your preferences. Summers are warm and vibrant, offering festivals and beach days. Spring and autumn provide milder weather and fewer crowds. Winters, especially during the holiday season, cast a magical spell on the region.
---
Step into a world of enchantment at Huelgoat Forest, a hidden gem in Brittany. Explore moss-covered boulders, ancient trees, and picturesque lakes.
The forest's legends and folklore add to its mystical aura, making it a perfect destination for nature enthusiasts and dreamers.
The Crozon Peninsula offers a rugged and unspoiled coastline with hidden beaches, towering cliffs, and panoramic viewpoints.
Hike along the coastal trails, visit the charming village of Camaret-sur-Mer, and discover secluded coves where you can unwind in peace.
Brittany's Secrets Await Your Discovery
Brittany's hidden treasures beckon intrepid travelers to explore the region's lesser-known but equally enchanting sites.
From flowering islands and medieval villages to mysterious megaliths and culinary delights, Brittany's secrets await your discovery.
Venture off the beaten path, immerse yourself in the region's rich culture and natural beauty, and uncover the gems that make Brittany a truly extraordinary destination.
Planning a Perfect Vacation in Brittany, France
To make your trip to Brittany, France, smooth and memorable, here are some practical tips and advice for travelers planning a vacation in this spectacular region.
Best Time to Visit Brittany
Summers for Pleasant Weather: The best time to visit Brittany is during the summer months, from June to August. This period offers pleasant weather with average temperatures ranging from 18°C to 24°C (64°F to 75°F). It's the ideal time for outdoor activities, exploring the coastline, and enjoying the vibrant festivals that dot the calendar.

Spring and Fall for Fewer Crowds: If you prefer fewer crowds and more affordable accommodations, consider visiting in the shoulder seasons of spring (April to May) and fall (September to October). The weather remains mild, making it suitable for sightseeing, and you'll have a chance to immerse yourself in Brittany's authentic charm.

Winters for a Tranquil Experience: While winters (December to February) in Brittany can be chilly, they offer a tranquil and peaceful experience. If you don't mind the colder weather and shorter days, this is the time to explore historic sites and savor cozy evenings by the fireplace.

What to Pack for Your Trip

Layers for Variable Weather: Brittany's weather can be unpredictable, so pack layers. Include lightweight clothing for warm days and sweaters or jackets for cooler evenings. A waterproof jacket or umbrella is essential, as rain showers can be frequent.

Comfortable Walking Shoes: Plan to do plenty of exploring on foot, so comfortable walking shoes are a must. Whether you're wandering the cobblestone streets of Quimper or hiking along the coastline, comfortable footwear will keep your feet happy.

Electrical Adapters and Currency: Don't forget electrical adapters for your devices as Brittany uses European-style Type C and Type E plugs. Additionally, check with your bank for currency exchange options, although credit cards are widely accepted.

Medications and Travel Insurance: If you have prescription medications, ensure you have an adequate supply for your trip. Consider travel insurance to cover unexpected events, such as trip cancellations or medical emergencies.

Navigating Brittany: Getting Around

Extensive Rail and Bus Network: Brittany boasts an extensive network of trains and buses, making it convenient to explore the region. Trains are a popular choice for traveling between major cities, while buses provide access to smaller towns and villages.

Renting a Car for Flexibility: For those who want to venture off the beaten path, renting a car is an excellent option. It allows you to explore remote areas, access hidden gems, and set your own pace. Be sure to obtain an International Driving Permit if your license is not in French.

Finding Accommodation in Brittany, France

Diverse Accommodation Options: Brittany offers diverse accommodation options to suit various preferences and budgets. You'll find everything from charming bed and breakfasts and boutique hotels to rustic cottages and campgrounds. Booking in advance, especially during the summer season, is advisable.

Coastal Retreats and Charming Inns: Consider staying in coastal retreats or charming inns along the Brittany coast for a picturesque experience. Wake up to breathtaking views of the sea, and enjoy fresh seafood at nearby restaurants.

Camping Adventure in Brittany: Brittany provides a plethora of camping opportunities for nature enthusiasts seeking an outdoor adventure.

Language and Culture

French Is the Official Language: While French is the official language, Breton, a Celtic language, is still spoken in some communities. Locals appreciate it when visitors make an effort to learn a few basic French phrases.

Embrace Local Traditions: Brittany is rich in cultural traditions. Check the local calendar for festivals celebrating Breton music, dance, and art. The Festival Interceltique de Lorient is a standout event featuring Celtic music and vibrant parades.
A vacation in Brittany, France, promises a remarkable journey filled with diverse experiences.
By choosing the right time to visit, packing appropriately, and following these practical tips, you can make the most of your trip.
Whether you're exploring historic sites, savoring Breton cuisine, or immersing yourself in local culture, Brittany's allure is sure to captivate you.
The Artistic and Cultural Riches of Brittany: Museums and Galleries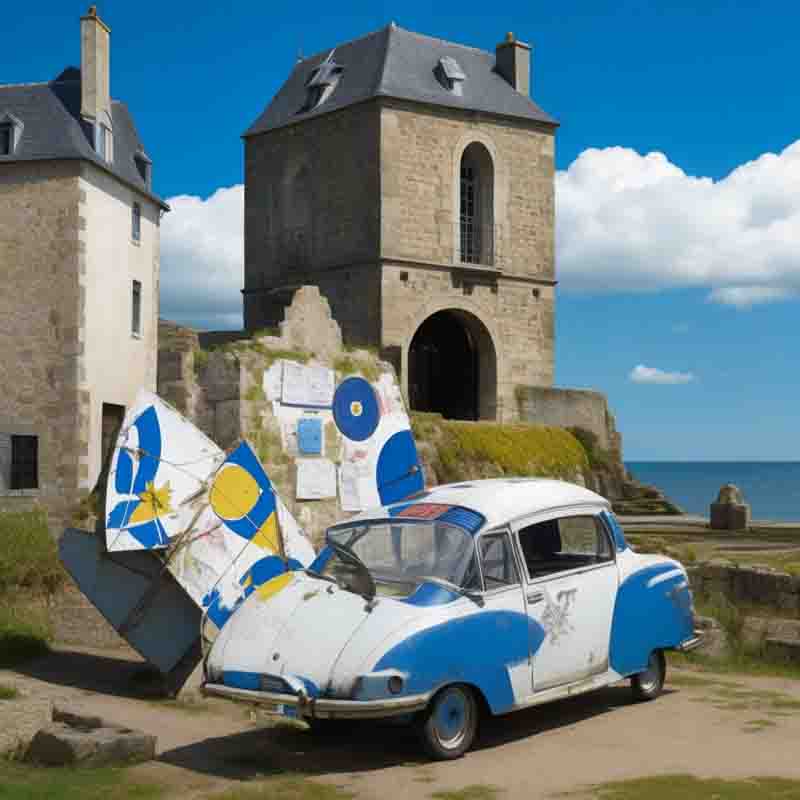 Art installation in Brittany France
Brittany's art and culture are a testament to the region's deep-seated traditions and its ability to inspire creativity. From world-class museums and galleries to the lively sounds of Breton music and the literary treasures of the Breton language
---
Brittany, a region known for its natural beauty and historic charm, also boasts a thriving art and cultural scene that beckons to travelers seeking creative inspiration.
From world-class museums to contemporary galleries, Brittany's cultural offerings are as diverse as its landscapes.
Musée de Bretagne - Rennes: Situated in the heart of Rennes, the Musée de Bretagne (Museum of Brittany) is a captivating institution that celebrates the region's history and culture. It offers a comprehensive journey through time, from prehistoric Brittany to the modern era. Explore immersive exhibitions that showcase everything from traditional Breton costumes to contemporary art, providing a profound understanding of the region's heritage and identity.

Musée de la Faïence - Quimper: Quimper, renowned for its exquisite faience pottery, is home to the Musée de la Faïence (Faience Museum). This museum is a treasure trove of ceramic artistry, showcasing stunning hand-painted pieces that have been crafted in the region for centuries. Admire intricate patterns and vibrant colors on plates, vases, and decorative objects. The museum also offers insights into the history of faience production in Brittany.

Galerie Art To Be - Lorient: Lorient's Galerie Art To Be is a dynamic space dedicated to contemporary art. This gallery constantly evolves its exhibitions, featuring works by emerging and established artists in various mediums, including painting, sculpture, and photography. Visitors can engage with the ever-changing artistic landscape of Brittany and beyond in this welcoming and innovative gallery.

La Passerelle - Brest: La Passerelle in Brest is a multidisciplinary cultural space that seamlessly blends contemporary visual arts, performing arts, and cinema. It's a hub for creative experimentation and expression. Explore thought-provoking exhibitions that push the boundaries of artistic exploration and attend performances that challenge conventional norms. La Passerelle invites visitors to engage with cutting-edge culture in a vibrant setting.

Musée de la Pêche - Concarneau: The Musée de la Pêche (Fishing Museum) in Concarneau delves into the maritime heritage of Brittany. It offers a unique opportunity to explore the world of fishing through interactive exhibits, historical artifacts, and immersive displays. Gain insights into the daily lives of fishermen, the evolution of fishing techniques, and the importance of the sea to Brittany's identity.

Atelier Musée du Poisson - Le Guilvinec: Le Guilvinec, a picturesque fishing port, is home to the Atelier Musée du Poisson (Fish Museum Workshop). This intimate museum pays homage to the region's fishing culture through a collection of paintings, sculptures, and artifacts. The artists and craftsmen featured here capture the essence of the sea and the lives of fishermen in their creations, providing a unique perspective on Brittany's maritime traditions.

La Gacilly - Photo Festival: Every year, the small village of La Gacilly transforms into a vibrant outdoor gallery during the La Gacilly Photo Festival. This immersive cultural event celebrates the art of photography, featuring large-scale exhibitions in public spaces and galleries. Stroll through the picturesque streets of La Gacilly while appreciating powerful visual storytelling from renowned photographers worldwide.

Festival Interceltique de Lorient: The Festival Interceltique de Lorient is a spectacular celebration of Celtic culture that attracts visitors from across the globe. Held in Lorient, this festival showcases the rich heritage of Brittany through music, dance, art, and cuisine. Immerse yourself in the rhythmic beats of Celtic music, witness traditional dance performances, and explore the vibrant artisan markets that display Brittany's craftsmanship.
Whether you're exploring the heritage of Brittany in its museums, engaging with the cutting-edge creations of contemporary artists, or immersing yourself in cultural festivals, the region invites you to embark on a cultural journey that will deepen your appreciation for its vibrant and diverse artistic offerings.
---
Brittany is a region that invites you to discover a world where tradition and natural beauty blend harmoniously. Whether you are attracted by the Celtic heritage, captivated by the historic towns or tantalized by the gastronomic delights, Brittany promises an unforgettable journey through time and beauty. Start planning your adventure and discover the magic of this magical corner of France.
---
Brittany France Travel: FAQ
The best time to visit Brittany is during the late spring and summer months, from May to September, when the weather is mild and ideal for outdoor activities.
Must-see attractions in Brittany include Mont Saint-Michel, Saint-Malo's historic city walls, and the medieval town of Dinan.
Yes, Brittany is renowned for its delicious cuisine, including crêpes, galettes, fresh seafood, and traditional Breton cider.
Absolutely, Brittany is filled with hidden gems like the medieval village of Locronan and the intricate Parish Closes, offering unique cultural experiences.
Brittany offers a wide range of outdoor activities, including hiking along coastal trails, watersports like kayaking and surfing, and camping in picturesque natural settings.
Brittany's culture is rich with music traditions like Fest-Noz, an array of museums and galleries, and a vibrant literary heritage in the Breton language.
You can immerse yourself in Breton culture by taking language courses, attending local festivals, and exploring artisan shops to discover traditional crafts.
Yes, Brittany offers family-friendly attractions like amusement parks, aquariums, and beautiful beaches that are perfect for children and parents alike.
Travelers in Brittany can use trains, buses, and car rentals to explore the region. Public transportation is well-developed, making it convenient to move between cities and attractions.
Are you curious about music, art, technology, fashion, humanity, lifestyle, and beer?
---
If so, then you need to subscribe to the free Likewolf newsletter.
100% privacy. When you sign up, we'll keep you posted.
---