The development of the motoric beat is attributed by many music journalists to Jaki Liebezeit, drummer of German experimental rock band Can. It should be noted that Charly Watts of the Rolling Stones made a significant contribution to this minimalist rhythm format with his signature style to 1968's Jumping Jack Flash.
Experimental Rock's motorik beat
Motorik Beats contain elements of the infectious rhythms used in the soul revues of the 60s. Most likely, these originated in the amphetamine-influenced lifestyles of the musicians of the time. Brian Eno identified this style as one of the three great beats of the '70s, along with the funk of James Brown and the Afrobeat of Fela Kuti.
---
Krautrock beats leading the way
Trailblazing German rock groups like NEU and CAN have left a lasting imprint on popular modern rock music.
A key aspect throughout was the distinct willingness of the musicians to embrace experimentation, driven in particular by their distinctive and unique drummers Klaus Dinger and Jaki Liebezeit.
With their revolutionary and new sound and their Motorik-Beat they led the way and had a significant influence on international giants of rock music such as Brian Eno, Iggy Pop, Velvet Underground, and David Bowie.
Motorik Beat drumkit
Bowie and Eno motorik obsession
While Krautrock records sold well among die-hard music fans around the world, their popularity remained largely hidden from a wider international audience.
It was David Bowie and his prolific collaborator Brian Eno who embraced the distinctive and unique sound of Krautrock and transformed it into a worldwide phenomenon.
In the years that followed, the German sound with its Motorik beat would profoundly influence Bands like Joy Division, Ultravox, and similar electronic pioneers like Gary Numan, The Human League, and Yellow Magic Orchestra.
Motorik Beat goes full circle
These bands, in turn, provided a tremendous template for the follow-up generation of the late 1980s, which included guitar bands like the Happy Mondays and The Stone Roses and, later, the emerging dance music and DJ culture.
Numerous tunes of this era are influenced by the motoric beat of the German music of the 1960s.
German underground music and its derivative synth-pop heavily influenced the dance records of the 1980s, as well as nascent hip-hop, exemplified by Afrika Bambaata's homage to German electro pioneers Kraftwerk.
Motorik still beats today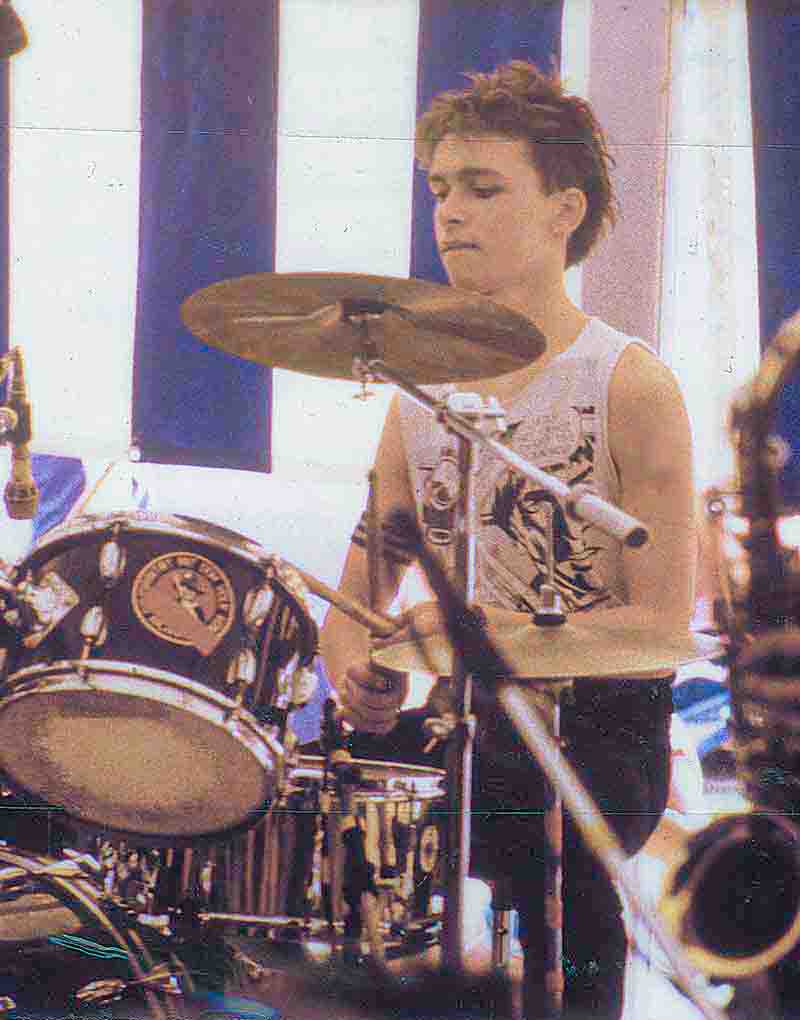 Likewolf Live, 1981
Nowadays, there are a scores of new groups dedicated to making music in the context of the motor beat. They apply the unconventional method of making music, which was first introduced by the Krautrock bands of post-war Germany.
Multi-instrumentalist Likewolf picked up drumming at a young age. He witnessed the peak of this "strange" German sound, and has absorbed the motoric beat into his musical creations.