Are you thinking about becoming an art collector but don't know where to start? The suggestions and recommendations that follow provide guidance to those in search of best practices of collecting art. Remember that all established collectors had to start somewhere.
Collecting art is for everybody
The Likewolf Head Number 32
The Likewolf Head Series is a commentary on the future of artificial intelligence, and a personal reflection on Likewolf's own relationship with technology. The artwork is called "The Likewolf Head Number 32". It was created by Likewolf in 2023 and is made of metal, plastic, and electronics. The thought-provoking piece of art is a reminder of the power of technology.
---
If you purchase one or two works of art for their visual appeal but without any broader context, you are acting as an art buyer. Being a serious art collector, on the other hand, requires time, strategy and consideration. Collectors buy art with a long-term goal.
Bringing together diverse works of art into one collection requires the development of a unique collector's style. Decisions should be considered to ensure that artworks complement each other and as a body reveal something about yourself. Educating oneself about prices of artworks is equally important.
Get a sense for what you like and learn to articulate why. Successful connoisseurs develop a signature style and a set of visual preferences that shape their collection to make it relevant and meaningful.
---
Limited Edition Likewolf Art:
---
Identify your Style
Full of life and energy
Acrylic painting on canvas. 1 meter by 1 meter. Date of creation 2002.
---
Identify what themes, mediums, and styles appeal to you. Is your focus on a particular era or movements such as Modern Art, Contemporary Art, Cubism, Pop Art, Abstract Art, Surrealism, Minimalism, Expressionism, or on a particular subject such as portraits, landscapes or abstract works.
Whether you prefer a particular medium such as paintings, installation art, photography, graphic prints, screen printing or historical figure sculpture , collecting art enriches life in many ways.
Ask yourself whether you're drawn to rare works by old masters, to well-known and famous stars of the art scene, or to contemporary and developing artists.
There is no pressure to narrow down your choice. The important factor is to find your own'leitmotif' and to follow-up on it.
Study the art market
Couple in love
Multimedia installation entitled "Couple in Love" from 1987. The techniques used include acrylic painting, charcoal drawing, photography and stage construction. The large format analog photography in the dimesion 120 cm x 120 cm is a unique piece.
---
6 questions to answer when building your collection
Which emotional feeling does the work trigger in you?

Does the composition inspire you?

Do you appreciate the historical context of the work?

Is there an underlying specified focus to your collection?

Do the artworks in your collection complement each other?

Where will you display the work?
---
After you've outlined your focus, the next step is to do your research. Find out about artworks, their prices, history, and origin.
Discover artists, their backgrounds, and the narratives behind works of art. Inform yourself about the latest trends in the art world.
Take advantage of the large and impressive selection of online art which offers a significant range of high-quality works of art.
Which artists are the up-and-coming talents? Track which artworks are currently traded.
Refine your search for offers and artists.
Monitor auctions and particularly their performances.
To locate objects, value and authenticate them, negotiate prices, understand legal issues, and finally add works to your collection, it is necessary to use all available resources. With knowledge comes understanding, and with it deep satisfaction.
Focus on quality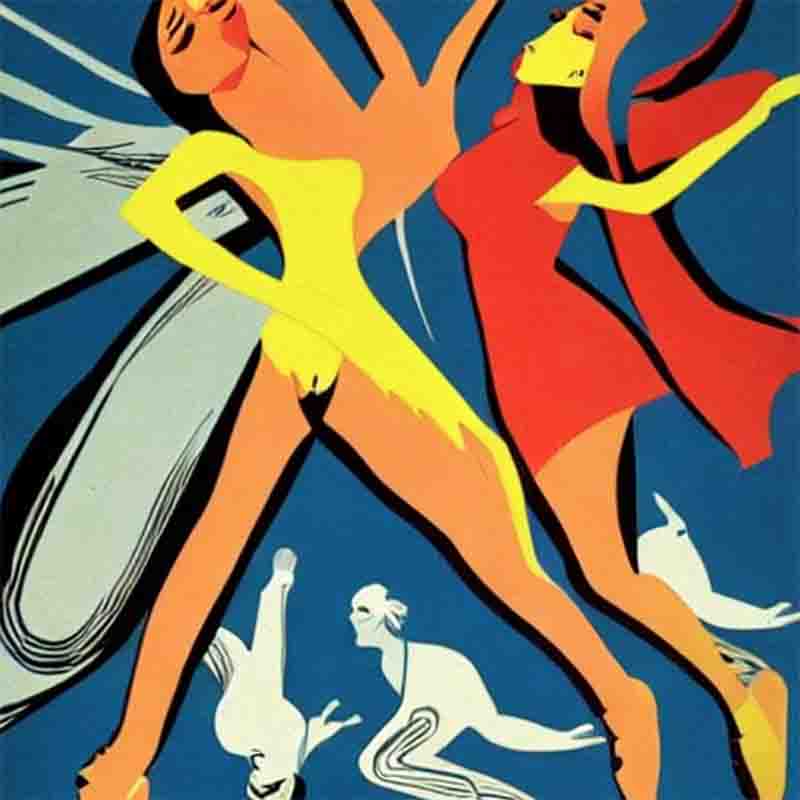 Rays of light
Acrylic painting titled "Rays of light" from 1982. Painted on canvas at a dimesion of 150cm x 150 cm.
---
Every collection must be well thought out and needs awesome pieces.
Include only the highest quality works in your collection. Make sure that the items in your collection interact with each other. The impact of a collection is more significant and powerful than its individual items.
Being creative about your collection means having a clear vision of your individual tastes. The most famous collections are those that show one' s unique signature style
If you want to build a private collection, don't look for artworks that promise you a quick financial return. Buy with your heart and make sure you purchase quality art that you can live with for the long term.
Art collecting best practices
Rockin' Red
Digital art illustration created in 2016. Dimensions 1 meter by 1 meter. Edition 2 of 3. The image is printed in pigment process on Hahnemuehle fine art paper.
---
Choose art that will enrich your collection into a consistent unit. Develop your taste, knowledge and connections in the art world.
Having your own visual identity will allow you to find and buy art with ease. One desirable aspect of building a collection is the opportunity to gain the reputation of a serious collector.
As you progress and delve deeper into the art, you will select items based not only on your taste but also on your understanding of significance and foresight.
The question of whether one must understand art remains unanswered. The most important key to an interpretation of art is which emotions the work triggers in a person.
Do I want to own this work, can I afford it, can I afford not to buy it.
These are the thoughts of every art collector. Be serious, have fun, and expand your horizon.
5 good reasons to collect art:
The pleasure of a work of art and the high prestige factor distinguishes art investments from other forms of investment.

Collecting art and establishing a collection makes you part of a global legacy.

Art broadens the horizon and can be compared to learning a new language.

Owning art increases your dopamine levels and makes you a happier person.

Art has proven to be a valuable investment.
---
The Art of Storytelling Through Collections:
Sensual woman with billowing robe
Art is known to evoke emotions, challenge perceptions, and spark intellectual curiosity. By encouraging an emotional connection to art, you will foster a passion for collecting that extends beyond the mere pursuit of ownership.
---
An art collection is not merely a random assortment of artworks; it can be a powerful narrative that tells a story.
By curating with intent, collectors give their collection depth and meaning, elevating it to a form of artistic expression in itself.
Art collection basics for beginners
The Circle of Life
When starting a beginner's art collection, consider exploring various art styles and artists to find what resonates with your personal preferences and interests.
---
A crucial aspect of art collecting is setting clear goals for the collection. Art collection, as an endeavour, goes far beyond simply accumulating art pieces.
It is a deeply enriching and personal journey that allows individuals to immerse themselves in the world of creativity, aesthetics, and cultural significance.
Collecting art is not limited to the elite or wealthy; rather, it is a fulfilling pursuit that can be enjoyed by anyone with an appreciation for creativity and beauty.
Starting an art collection: FAQ
To start an art collection, begin by exploring your artistic interests, setting a budget, and researching different art styles and artists that resonate with you.
Whether to focus on original art or limited-edition prints depends on your budget and collecting goals. Limited-edition prints can be an excellent way to own works by interesting artists at a more affordable price, while original art offers unique and one-of-a-kind pieces.
Do your research. Ask questions. An insider tip is to pretend to be a buyer at art galleries. You will find that art dealers have a lot of time and patience for potential new customers.
Many new art customers are put off by the appearance and behavior of art dealers. Do not worry, these people are also just salespeople.
Insuring and protecting your art collection is crucial to safeguard your investments. Consult with art insurance specialists to find a policy that adequately covers your collection's value and addresses potential risks like theft or damage.